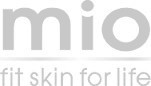 Mio Get Waisted Sculpting Body Shaper 100ml
This cream is going to help firm & tone your stomach whilst also helping with bloating. Get waisted works on increasing your energy levels of your skin helping to burn fat deposits. This cream also helps eliminate puffiness for a flatter tummy.
Directions of use: Use one pump and massage in circular motions anti-clockwise ( helping with sluggish digestion, another cause of bloated bellies) work all the way around your back. Use once a day.